BAUHAUSBUCH 06
THEO VAN DOESBURG
NEUE GRUNDBEGRIFFE DER NEUEN GESTALTENDEN KUNST
1925
schriftleitung walter gropius
l. moholy-nagy
A layman's breviary of elementary art. Praiseworthy as an experiment, not convincing as a result. Correct elimination of the means of expression from painting, sculpture, architecture. Correct interpretation of historical works of art from "Egypt" to "Picasso". Dangerous the presented transfigurations of a cow (Figs. 5-8) and a landscape (Figs. 16, 17) and the explanation of neo-plastic works of art as direct transformations of the optical impression of nature. The architectural designs depicted are composed sculptures; are they therefore "architecture"?
AN OBJECT AESTHETICALLY TRANSFIGURED
Fig. 5: Photograph.
Fig. 6: Form preserved but relationships accentuated. Fig. 7: Form abolished.
Fig. 8: Image​
Fig.16 Theo van Doesburg, Study, 1916​
Fig.17 Theo van Doesburg, Image, 1916​​
Fig. 10 G. VANTONGERLOO, Sculpture II 1918​
Fig.11​ THEO VAN DOESBURG­
C. VAN EESTEREN:
Artist's house with studio (1923)
Cover design: Theo van Doesburg
THE ELEMENTARY
EXPRESSIONAL MEANS
OF PAINTING​
THEO VAN DOESBURG C.VAN EESTEREN:
Model for a villa (1923)​
BAUHAUS BOOK 06
THEO VAN DOESBURG PRINCIPLES OF NEO-PLASTIC ART

1966, Florian Kupferberg Publishers
tr: percy lund,
humphries & co london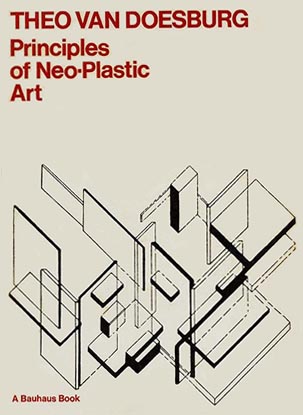 bauhaus book 06
theo van doesburg
principles of neo-plastic art

Florian Kupferberg Publishers, 1966
tr: percy lund,
humphries & co london